Nearly thirty years ago, Disney's animated film Beauty and the Beast opened in Japan. That was back before Disney cartoons had simultaneous releases round the world; Beauty opened in Japan in September 1992, a year after its American debut, though a couple of weeks before it opened in Britain.
Đang xem: Belle review: beauty & the beast meets the matrix in dazzling anime
Among the people who saw the cartoon was a young, dispirited animator called Mamoru Hosoda, toiling at anime's biggest studio, Toei Animation. "I was really depressed because the conditions at their production studio were horrible," he said long after. "I wondered how anyone could make anything good in this kind of environment." In another interview, Hosoda talked of the poverty of those days. "I lived in an apartment that didn't have a shower, so I would go to the public bath thinking about how much trouble this job was."
Hosoda couldn't afford to see Beauty and the Beast in the cinema; he had to wait for the video. But when he saw the film, he was so moved that he was inspired to carry on. "That film was so beautiful – I couldn't believe such a beautiful movie existed in this world – that I thought I could keep working on anime for a little bit longer." Hosoda even shelled out for a box set, partly because it included the "Work in Progress" incomplete version that showed how the film was made.
"You can see how much the camera tracked in, how loose the in-between animation is… It was an excellent resource for me as a new animator," Hosoda said. "What was so great about this movie was that it gave me the thought that I stayed working at an animation studio, then maybe I could make something just as wonderful one day."
Hosoda's new film Belle references Beauty and the Beast in obvious ways, starting with its title – Belle has long been the name of the tale's heroine. Then there's the importance of songs in the film, sung by an onscreen character rather than by an invisible Radwimps. Belle isn't the only anime to do this – so does another 2021 film, Sing a Bit of Harmony, where a girl android breaks into song with a spontaneity to impress Julie Andrews. But it's still most unusual for an anime (except idol anime, of course), whereas it used to be mandatory for Disney. Hosoda indicated he considered making a film that was even more of a musical than the final Belle. Funnily, Hosoda's The Boy and the Beast is being adapted into a Tokyo stage musical this spring.
Belle's other most transparent Disney references are in the mid-section, where Hosoda's heroine finds a remote castle in the upper reaches of the cyber-city, U. Searching the cavernous building, she finds a wondrously beautiful rose, and is confronted by the terrible, boar-like Dragon who bellows at her to leave.
Any Disney fan will recognize the scene, and we haven't even mentioned the Dragon's little magic servants who comment nervously on the action. But it's a later scene where the homage clicks all the way. I won't spoil it all, but it's a musical sequence that paraphrases the best-known scene in Disney's film, down to the swirls and angles of the "camera." Not that it's a slavish imitation. In Hosoda's film, the scene is accompanied by Belle's song, and we see the scene through her eyes, whereas it was the Beast's moment in the Disney version.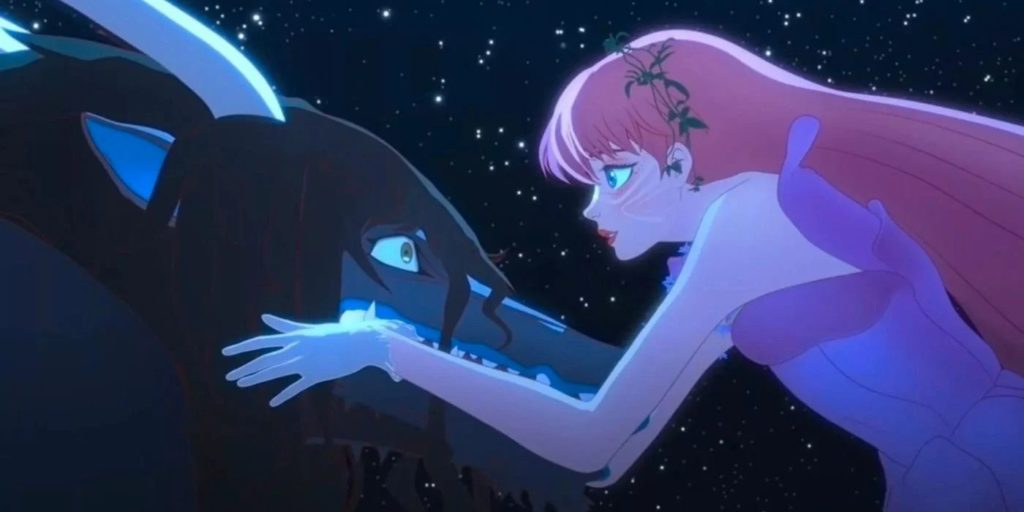 Moreover, Hosoda's Belle was designed by a Disney artist, Jin Kim. The first Korean artist to work at the studio, he's a dab hand at creating concept designs and expression sheets. You can see some of his Disney art here. Kim's no stranger to Disney Princesses, having been a Visual Development artist on Frozen and Moana. Hosoda's Belle is first seen advancing confidently towards the "camera" on the head of a whale, while she belts out a sassy number to raspy percussion. You might think back to the introduction of the other Belle, also striding through the scene, though Disney's girl was far more Broadway.
Xem thêm: Danh Sách Cầu Thủ Giới Hạn Fifa Online 3 Moi Nhat, Fifa Online 3
Hosoda himself has described his Belle as a fusion, drawing on both the Disney cartoon and the classic live-action version, La Belle et la Bête by Jean Cocteau. But while the latter is wonderful, with wafting drapes and smouldering sensuality, I couldn't see much Cocteau in Hosoda's Belle, while the Disney homages are blindingly clear.
At the same time, they're different from the fanservice references in a film like Ready Player One. In the world of Hosoda's Belle, it seems the Disney version of Beauty and the Beast was never made. None of Hosoda's characters reference it themselves, or make knowing asides that this feels familiar, which would be as ruinous as Tony and Maria in West Side Story registering they were replaying the world's most famous balcony scene.
It's okay for the viewers, or a motherly teapot, to know the characters are playing out a tale old as time. Hosoda creates senior figures in Belle with similar insights. But for the young leads, it's all new, not a dating sim with otaku algorithms. You can imagine how late-night TV anime would do it: I'm The Romantic Lead, But I've Forgotten My Lines! Hosoda's film sets itself apart from the "fan" mindset, as did the Miyazaki films of past decades.
And regarding repeated experiences, let's take a detour and talk Miyazaki. We started by talking about the dispirited Hosoda being creatively encouraged by Beauty and the Beast. That story has its own parallel. Miyazaki had a similar experience when he was nearly the same age as the young Hosoda, being captivated by a cartoon. You can read his account in the book Starting Point, in the essay "Thoughts on Japanese Animation." The cartoon that floored Miyazaki was Hakujaden (1958), Japan's first feature anime in colour.
Xem thêm: So Sánh Tốc Độ Của Lý Tiểu Long Và Chân Tử Đan, Ai Nhanh Hơn? ?
"I was moved to the depths of my soul," Miyazaki writes, saying he felt so inadequate beside the cartoon heroine that he spent a whole evening weeping. Hosoda's film shows Belle having a comparable effect on impressionable youngsters. But there are a couple of funny ironies. One is that Hakujaden was made by Toei – yes, the same studio that would supposedly make Hosoda so miserable that he wanted to quit animation!
The other irony relates to Miyazaki's expressed attitudes to Disney animation. In the Starting Point essay, he writes that he hates them for their vulgarity. "The barrier to both the entry and exit of Disney films is too low and too wide. To me they show nothing but contempt for the audience."
Fine… but then look at this trailer for Miyazaki's beloved Hakujaden, especially the cartoon animal business around the 3-30 mark. Doesn't it look a little, er, Disneyesque? Indeed, Toei's President Hiroshi Okawa spoke openly of wanting to make the studio the "Disney of the East." You can see him in the trailer, vainly trying to evoke Uncle Walt.